---
Alpha Canine Professional Testimonials - Tomomi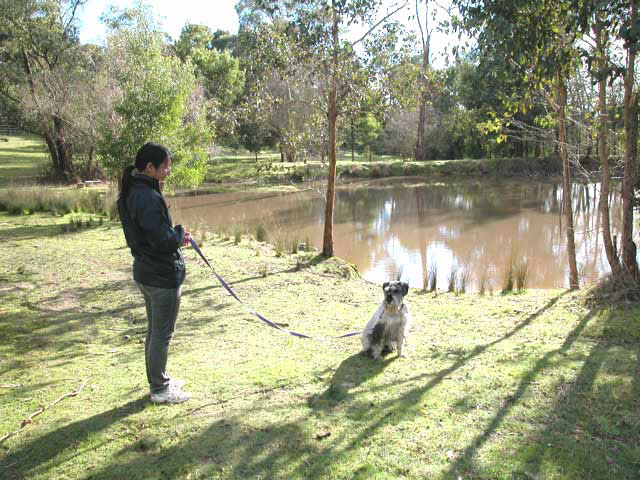 Tomomi had recently completed a 7 month course with another establishment here in Melbourne and she is also a full time trainer back in Japan with several years experience. She found us via a trainer in NSW who is a good friend of mine and suggested that whilst in Melbourne Tomomi should take a look at our dog training method.
As a result, Tomomi attended a 28 day, full time intensive trainer's course at the
Alpha Boarding Kennels
. This is what she had to say:
A letter from Tomomi Sekino to Alpha Dog Training & Boarding Kennels (Boarding School For Dogs) Director Greg Fontana, 15 July, 2006.
This past month I've learned an amazing amount whilst studying at Alpha Dog Training & Boarding Kennels (Boarding School For Dogs). Every day I've had the chance to handle and train many dogs, as well as to observe and learn the training method used on the many different types of dogs. Alpha Boarding Kennels is an extremely quiet environment, which has a very calming effect upon the dogs, even for those dogs that are fearful. Why? Well simply, even those dogs known to be aggressive aren't just barking all the time.

I've built up my self confidence levels through being able to handle so many dogs. Large dogs; small dogs; dominant dogs; fearful dogs; I was able to handle all different dogs at differing stages of training. Sometimes I was a little unsure – for example after training a dog that knew quite a lot already, to be given a raw dog to train, how far should I be able to go with this dog – but ultimately I always came to understand the points I was unsure of, which I was really pleased about.

During my previous course with another establishment I learned theories on how to deal with canine behavioural problems but the dogs we actually trained during that course were not afflicted with any kinds of problems, which had left me feeling a bit uneasy. At Alpha, however, I was really thrilled to have the chance to see dogs with real behavioural issues being trained and what's more I got the chance to handle and train these dogs myself. The trainers at Alpha were all kind and understanding, and I found the one-on-one tuition easy to understand – any question I asked was always explained and discussed until I understood the answer.

Keryn – I really appreciate all your help with the training and sometimes also with my English. You always were able to show me what I was doing wrong and encouraged me to try it again to get it right, and I grew in my understanding and self confidence thanks to your patient coaching. You always explain things with consideration for your listeners' feelings.

Hannah – You are very warm hearted, and although we didn't get to spend much time training together, you have a way of teaching that is considerate and easy to understand.

Ruth – I'm grateful to you for always explaining things carefully and making sure that I understood the basic principals. You have an eye for detail and are always terrific with the dogs.

Greg – You taught me the foundation principals of your training method and taught me to recognise the important factors in handling dogs. You taught me the importance of showing leadership to the dogs and what are the important things to teach dog owners. Anything I didn't understand all I had to do was ask and you were able to show me how to handle the situation, in a way I could easily understand. I'm grateful to you for encouraging me and explaining everything in such detail that I could understand, especially when the knowledge and skills I brought with me were clearly inadequate.

You taught me that all dogs are basically the same and that there are certain rules that apply no matter what the situation. I had previously been taught differing rules of behaviour modification for each different problem that a dog might present with, which when I think about it now seems very confusing and must make it difficult for the poor dog to get the message. For me one of the most important, and most simple, things I've learned is that no matter what behavioural problems a dog presents with there are certain very important things that the owner must do and must not do.

The Hand back – This was a completely new experience for me and I learned a lot from attending hand backs. Actually, I really wondered if, when we took these dogs back into their homes, the dogs would be able to perform? And would the owners be able to learn to handle them? The reality turned out to be all that and more. It was exciting to see that the dogs actually could do it and when a dog did challenge the owner the trainer was able to deftly guide the handler so that they were able to grow confident and competent in their handling.

The Weekly Classes – This was of great interest to me as I've really had no experience of this type of training in Japan, but I'd love to give it a go back home. My previous dog trainer's course with ADT left me with a lot of questions; questions that seemed to arise during the class but never seemed to be answered by the end of the class. I found answers to all my questions here with Alpha. It was so pleasing to see that no matter how many dogs ended up in each class, there were always trainers ready and willing to give personalized attention to those who were having difficulty with their handling. The trainers were all very easy to get along with, and I found the class content extremely interesting.

Finally, thankyou for all of your care and attention this past month. I'm so grateful for everyday that I was picked up and driven around; for all the time and guidance I received in refining my handling, which often wasn't very good; for all your care. Thankyou for patiently explaining concepts or points I didn't understand until I understood and learned them. Though I'm returning home to Japan now, I hope that we will meet again.



Tomomi Sekino
15th July, 2006



PS. Thankyou for your generous gift of the akubra hat, which I love. I saw that Ruth and Keryn both wear one, and admired theirs, but never would I have imagined receiving such a splendid gift. Thank you so very much.