---
Alpha Canine Professional Testimonials - Ramana
Visiting Trainer From India Completes 'Level 1' Full-time Intensive Trainer's Course.
Dear Greg,

As I was watching the tapes, I was swept with emotions. Pride at having learnt something close to my heart for a long time, pleasure at the way it was taught and the feeling of camaraderie as I worked along with the other trainers all came flooding back. Thanks for including Braidyn's break dance and antics in the tape. I have started training my dog from yesterday. I wear the Alpha cap with pride while training. As promised I shall film before and after of each dog I train.

All dog myths broken. The training was an eye-opener. The unique training method of "Pattern Learning" is positive, gentle and very effective. It helps build a bond quickly between the dog and the owner. The Canine "Leadership" System developed by Greg Fontana, Director of Alpha Dog Training and Boarding School For Dogs made me competent to handle different breeds, sizes and temperament dogs and train them back in India.





Dear Greg

I have read your mail on the testimony you have received after training a problematic dog. For some one who is uninitiated into Alpha methods of dog training, the difference before and after the training is always close to incredulity. I myself would not have believed it if I had not gone through the training program and watched from closed quarters the trained dogs. Even my 11 year old son now is able to handle my dog who was earlier terrified of it because it used to jump and growl at him. And when he does it with such ease, I feel a deep satisfaction within myself that my decision to choose Alpha has turned out be the best choice. When I look back those three months of my intense search on the net for dog training institutes and try to follow my instinct in choosing the right one among more than 15 or so with whom I was in touch, I am always glad that I chose Alpha.

At that time I was perplexed at the different methods being described by the trainers and annoyed at some who refused to elaborate on the program or the method but insisted on advance payment before discussing any further. What swung me in favour of Alpha was your detailed mail on the method of training, program details, forthrightness and above all my hunch that you are a passionate person. You have proved to be more passionate than I have imagined and your method of training better than any type I have ever come across. Am glad about that.

So it's no wonder for me when you make the most problematic dogs better pets all in a span of 2 weeks. I can visualize the amazement and disbelief in the eyes of the owner when her troublesome dog turns into a disciplined pet. If you have told her that you are a sorcerer with dogs and had a magic wand to turn wild dogs into lovable pets she would have believed you. On the other hand I think you are a sorcerer and your magic wand is your training methodology and the passion to try to improve and innovate. And whenever I think of the training days, I think of the extra-ordinary length Amy and you have gone to make myself comfortable. Sometimes, I am nostalgic about the stay.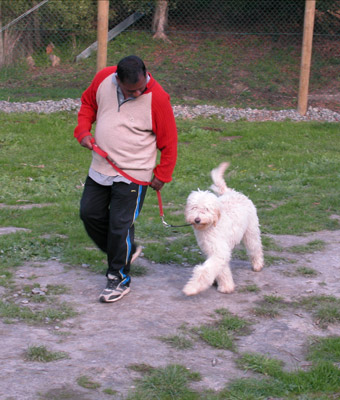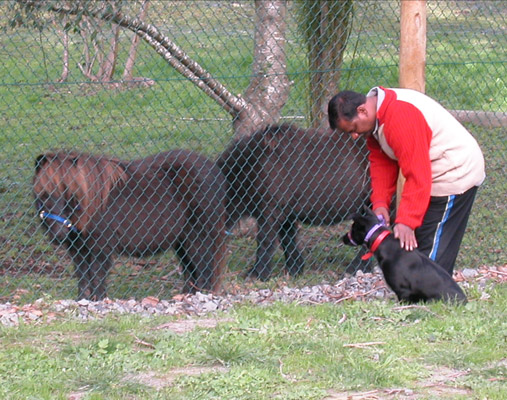 Ramana Dukkipati contacted me enquiring about the full-time trainer's courses that are on offer to interstate and international dog trainers. He read about these options on our website and decided that he would like to learn more about the "Lifestyle Canine Communication System". After months of negotiations and organisation the course start date was set for June 25, 2004.
Ramana spent 10 very busy days training with me, five of them full time at the Alpha boarding and training kennels from 8am - 5pm. Each day also included a lecture topic relevant to the training we were doing at the time. Over the course we also included: two puppy education sessions I conduct at Stud Park Veterinary Hospital and Beaconsfield Veterinary Centre, a Sunday evening Research & Development session with my trainers and trainees, an early morning trainer session working with the trainer's own dogs before training, three Alpha Dog Training sessions (one as a 1st time customer, one as a basic & intermediate customer and the third he spent filming all classes), one Saturday morning handling workshop with my current trainees and a few trainers and a full afternoon lecture & workshop (after Alpha) with my trainers and trainees.
He also attended five boarding school hand-backs in the customer's homes and watched how I demonstrate the dogs under distraction around kids and other dogs and then pass the new canine communication skills on to the owners. The focus here was to let him witness how dogs trained in obedience with our method could also be easily shaped in the important areas of behavioural modification. This was the best way for him to see the three base "life skills" I consider to be vital to ALL behavioural modification (1: Not jumping on people and children. 2: Not barging through doors & gates. 3: Behaving inside). The results were very exciting and it was great for him to see dogs working in their home environment under the clear guidance provided by their proud owners. What really blew him away was how positive everything was and how the dogs were not 'broken' by the experience.
Each day's training was filmed and photographed and Ramana received personalised course notes relevant to the training conducted. Over the duration of the course he got to train and socialise with my part-time trainers and trainees and also my full time staff, Vinny (Senior Trainer), Renee (Trainer) and Amy (Trainer/Business Manager). Everyone just loves sharing this stuff and when the trainers worked with Ramana they just kicked into teaching mode which was great to see. Martine (Trainer) also did a great job helping me teach the dog handling basics on the first morning of the course.
By the end of his course Ramana was handling any dog we asked him to train confidently (Rotties, Labs, Dobes, Jack Russells, Cavies, Great Dane, Staffy X, Kelpie X, St Bernard, German Shepherds, Heeler Xs), all of mixed temperament and social problems, but thanks to his training - working beautifully.
These courses are a lot of work because they are tailored to suit the group or individual (as in this case), but I love doing them and it's great to watch 'raw' trainers acquire their new handling skills from day-to-day and to see how their ability to "feel" the dog and communicate develops as we go. As their ability increases, so does their confidence and competence. It's amazing what can be achieved when training full-time.