---
Alpha Canine Professional Testimonials - Mark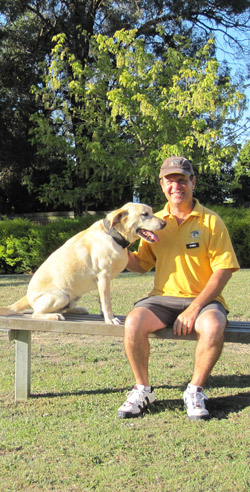 Dear Greg,
Just a brief note to let you know how beneficial the "professional dog trainers" course has been for me. As you know I was a client of Alpha for approximately 12 months before joining the course and initially I did the course just to improve my knowledge of dog training. I have enjoyed the course so much I have now stayed on to become a trainer.
The course structure of "hands on" dog training at the kennels, participation in classes, and lectures on all aspects of dog training, has given me a well rounded ability to assist people with their dog training needs.
The course is unique in that it offers the trainee the ability to handle over 200 dogs of varying breed, size and temperament at the kennels under expert supervision. Personally, I found this "hands on" experience to be invaluable as it improved my own dog handling ability and gave me the confidence to assist people with their pets regardless of the breed or problems the dog may have. When you handle this many dogs it gives you a fantastic appreciation of how dogs behave in certain circumstances and helped me to understand how to modify my technique depending upon the individual dog.
Another great aspect of the course is the client interaction through Alpha dog training twice weekly classes. Being involved in the classes initially as an observer, then helper and finally a trainer allowed me to learn about the teaching styles of the other trainers and develop my own confidence and teaching technique without being "thrown in at the deep end". This gradual induction not only helps Alpha maintain an exceptional level of skill and knowledge for the client it also allows a trainee to develop their own skill level before having to deal with a problem dog.
Finally the lectures on all aspects of dog training, how dogs learn, development stages, the Alpha systems and other aspects gave me the understanding of the theory behind the training and some understanding on why it works.
As you are no doubt aware I would highly recommend this course to anyone serious about improving their knowledge of dog training or thinking about becoming a professional dog trainer.
Once again thank you and all those involved in my training.
Kind regards
Mark Leonard